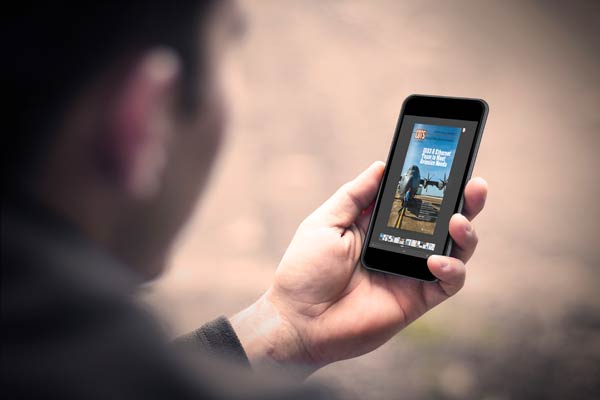 Nowadays, lots of people are interested in free magazine maker software and wonder how to create a digital magazine easily and free of charge. One of the best ways in which to reach your target readers is to create a functional magazine app, where readers don't need to download the single magazine editions anymore. With so many consumers accessing content on the go, they are looking for new ways to access information and a digital magazine app they can download is an excellent way to deliver the high quality content that readers expect. What's more, a magazine app is a great content marketing tool that support all the devices if created properly. Once the app is developed it can then be rolled out to an app store and then purchased by users who want to read the remaining magazines for free. In this guide we will provide you with some great advice on creating and launching your magazine app.
Creating a Magazine App; Finding the right niche
When creating your app, you don't want to be just another magazine on the market; your aim should be to launch something fresh, new and different that can clearly distinguish your magazine from all the rest. One of the ways in which you can achieve this is by focusing on a specific area in your industry. Don't choose one that is too specific though, otherwise you will soon run out of ideas for content. When you are brainstorming ideas for your app, make use of all the available resources on the internet. Use the app stores across the different platforms to see what's out there and most importantly what's popular. Note down the magazine apps that are in the 'best of' lists and pay particular attention to their features and the support they offer. When it comes to the pricing of creating apps, there are loads of software that offer app creation services at an acceptable price.
Careful Design
Once you have conducted the initial research and found an idea that is viable, you need to explore the design process to create a magazine app in detail before you commit. The last thing that you want is to invest a great deal into designing and launching the app and then find that the app is not as profitable as you thought or indeed hoped. Make sure that you see the results of your work on the bottom line by ensuring that the magazine app design that you have in mind is watertight.
Market Research
As the world of digital publishing is vast, it is not uncommon for there to be several digital newsstand magazines and apps which are very similar. Create features for your magazine's app that reflect what your audience want to read. You don't want to spend lots of time, effort and money into developing a suitable magazine app to find that it's already been done before. Just take half an hour to see if the idea you have in mind is not already out there.
It's all in the name
Although it may seem insignificant, the name of the application can be extremely important. You want the name to be both memorable and reflect exactly what the magazine is about. Use all of the available resources that you have, speak with staff, browse a newsstand magazine in your niche, ask customers on social media or make use of the internet to brainstorm multiple ideas which you can then shortlist further until you reach the right one.
Features
Depending on your industry and the type of content that the application will provide, features are very important. How are you going to incorporate interactivity into the app, how will you generate revenue? Does it support all kinds of mobile devices or just apple ipad, for instance? Will it be free with specific sections of magazines only available to subscribers or will you generate revenue some other way such as through advertising? These are all important questions that you should be asking when you are in the design process of the app development. To get a better idea of the whole app development, take some time to browse online magazine makers that offer such a service.
Create a magazine app according to your target audience, incorporate the necessary functions and above all deliver content that is valuable to your readers, informative and serves a purpose. Digital magazine publishing is booming – publish your magazines, guides & brochures now online!