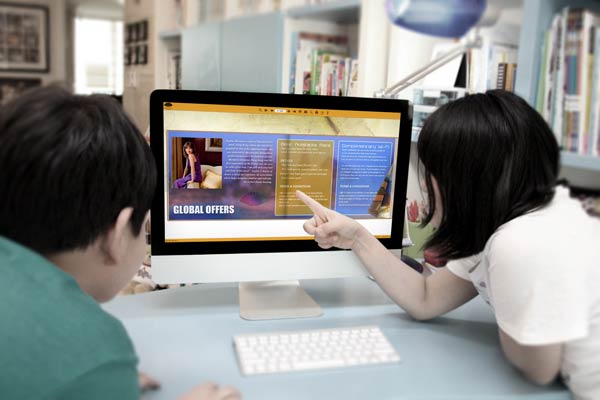 With the use of tablet and ipad, digital publications are certainly growing in popularity and to save time and resources there are some great options available if you are looking for a digital magazine template. Every week there are new features released which are added to the list of things to look out for but in this post we will provide you with the latest features that you should consider if you are looking to create a magazine online. There may be a number of reasons why you are looking for an online magazine maker or a new magazine template, perhaps you have an existing magazine and you want a radical overhaul or maybe you are just starting out and want something professional. There isn't really a specific feature that makes a great magazine template; it requires a combination of attributes which give style and appeal to a particular type of magazine (template).
Many print magazine owners are gradually making the transition from print to digital, although they do not move away from printed publications entirely. It is important that magazine owners are careful not to lose essential features that readers like in print documents otherwise there is a risk of losing readers.
Top Tip #1 Develop an effective layout for your digital magazine template
When searching for a suitable digital magazine template you want to choose one that is well structured. Digital magazines are designed to be read from the front pages through to the back and include an engaging front cover and easy to follow table of contents. Following on from this there is the main features pages followed by letters, fillers or shorter articles and perhaps advertising too.
Come up with a structure that keeps your readers interested and engaged with the content so that they are compelled to read the publication from cover to cover. Try to add some links but do not include too many links to outside websites or pages, otherwise you may lose a lot of your readers who will visit these third party websites and then it is difficult to get them back. If you do not know much about how to create a digital magazine, doing a lot of research is crucial. You also have the possibility to use pre-built templates (some indesign or photoshop templates can be downloaded for free).
Top Tip #2 Provide Content Often
Readers love regular, exclusive content. With print magazines the cost of distribution and printing often limits the frequency of publications but with an online magazine you can switch your magazine from quarterly to, or toy or even more frequently if you have the resources available to produce quality content. Online distribution is nearly for free. When you operate online you can gauge how often your target audience requires new content and then you can meet this demand accordingly. Your magazine can be accompanied with a blog where you publish daily content or intros to upcoming content. This will help to keep readers engaged for a longer time and they are more inclined to subscribe or purchase each issue if they are provided with high quality, valuable content.
Top Tip #3 Make your content searchable and useable on all devices with the right magazine maker
One of the main drawbacks of print compared to digital magazines is that readers cannot search the content quickly. If there is a story or feature that you need to find in back issues, the challenge for print magazines can be immense. With a digital archive of content topics can be easily searched and displayed. Furthermore, if you optimise each of your feature articles with keywords, they will be indexed by search engines if you place your publication onto a website. When consumers read content online they are looking for information quickly so if you make your content searchable, readers will find what they want to read in a matter of seconds.
With the ever-growing popularity of mobile devices like ipad or tablet, consumers feel the need of accessing content on the go. Hence, your publication should be accessible on any device so that users can read through your digital magazines from anywhere and at any time.
Top Tip #4 Make your content interactive
There are so many possibilities with an online magazine. One of the great things about templates is that you can add interactive elements like slideshows, rotating banners, advertisements, videos, audio files and buttons. Another advantage is the integration with social media. Some of the best magazine templates will allow you a layout where you can integrate all of these elements (including audio and video content) without detracting from the main purpose of your magazine; to help provide great content, articles and features to your readers.
Top Tip #5 Drag and Drop
If you are not that technically savvy, there are some great drag and drop magazine creators out there that can help you make a professional publication from a digital magazine template in a few simple steps. All you have to do to make the single pages is to prepare and add the content, source some good quality images and develop a good structure for your publication (in indesign, f.e.) and you can be up and running in no time at all. You don't have to be a boffin or design wizard to create something professional!
How to create your own magazine?
Designing a magazine or adapting design templates doesn't have to be difficult. If you follow the tips outlined in this guide and choose your template wisely, you can create a polished and professional layout for your magazine that is at once optimized for search engines and viewable on all devices like an ipad magazine or tablet magazine.